Dr. Ulrike Wessely, M.D., G.P.
Clinic for Integral Medicine
Homoeopathy
Diagnostics and Therapy according to Dr. F.X. Mayr

A – 1140 Vienna, Diesterweggasse 19/2/2

Appointments and requests:

Please call (Austria/Vienna) +43 (0)1 - 894 31 83.
The answering machine will tell you when I am personally available. I work
upon prior appointment only, generally during the following office times:

Mon: 4 pm - 7 pm
Wed: 9 am - 12 pm and 4 pm – 7 pm
Fri: for exact time please listen to answering machine

Appointments at other times are possible depending on availability.
www.dr-u-wessely.at
e-mail:
uwessely@ccc.at
You can reach my office as follows:
Direction Map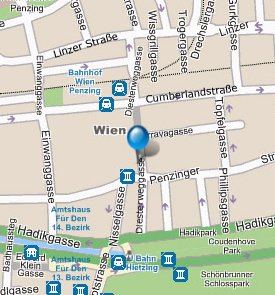 Subway:
U4 - use stop Hietzing
Tramways and busses
bound for the stops Kennedybrücke/Nisselgasse:
Lines
58, 10, 60, 51A, 56B, 58B, 156B
Trains
S50, R50, S45:
get off at Penzing
By car: (note: parking spaces rare!)
Diesterweggasse crosses Penzinger Street between numbers 68 and 70,
park in Penzinger Street, Cumberland Street or lower Diesterweggasse and walk about 20 mtrs. uphill into upper Diesterweggasse, first house on the
left hand side.